BNS SHADERS FOR MINECRAFT PE 2023
Details :
While the graphics in Minecraft PE are already impressive, some players yearn for a fresh and captivating visual experience. That's where the BNS shaders come into play, allowing you to transform the mundane design into a brand new aesthetic. With a range of exciting features, this shader pack opens up a world of possibilities for enhancing your Minecraft experience.
One of the standout features of the BNS shaders is the addition of realistic shadows. These shadows add depth and dimension to the game, creating a more immersive environment. As you explore, you'll notice the subtle interplay of light and shadow, bringing your Minecraft world to life in a whole new way.
Custom Cube Maps further elevate the visual appeal by providing unique textures and reflections to various surfaces. This creates a vibrant atmosphere, adding a touch of realism and sophistication to your Minecraft adventures. Every block and object is transformed with stunning detail and visual depth.
With natural dynamic lighting, the BNS shaders introduce a dynamic lighting system that mimics the behavior of light in the real world. As the sun moves across the sky, you'll witness the shifting play of light and the enchanting dance of shadows, creating a more immersive and realistic experience.
The monochromatic weather effect is another noteworthy feature, offering a visually striking change to the game's weather system. Whether it's rain, fog, or snow, the BNS shaders add a touch of atmospheric beauty, enhancing the overall ambiance of your Minecraft world.
In addition, the shader pack optimally darkens dark areas, adding an extra layer of realism and intensity to dimly lit environments. This adds to the immersion factor and adds a sense of suspense as you navigate through dark caves or mysterious structures.
To top it off, the BNS shaders introduce animated waves on leaves and water, giving these elements a lifelike quality. This attention to detail adds a subtle yet captivating touch to the natural elements in the game, making your Minecraft world feel more alive and dynamic.
By embracing the BNS shaders, you can unlock a whole new level of visual splendor in Minecraft PE. From realistic shadows and vibrant atmosphere to dynamic lighting and captivating weather effects, this shader pack breathes fresh life into your Minecraft adventures. Get ready to immerse yourself in a visually stunning and enchanting Minecraft experience like never before!
Gallery :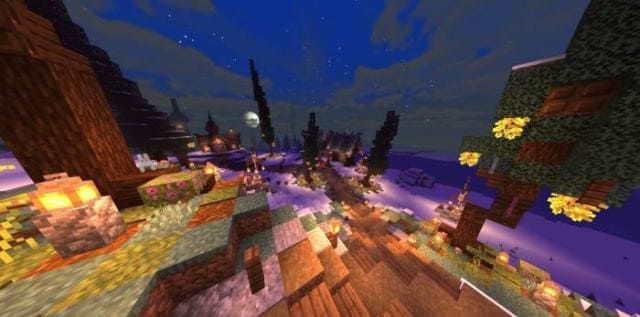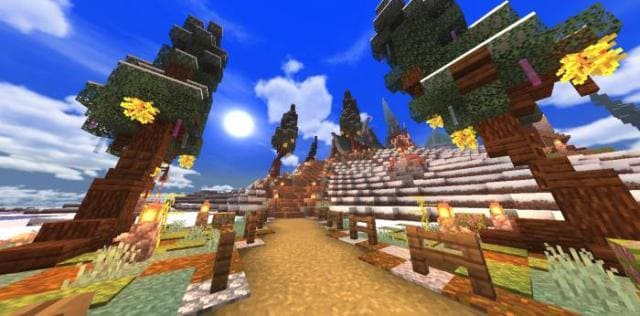 Download :